http://www.geocities.com/tribalvoices/john.htm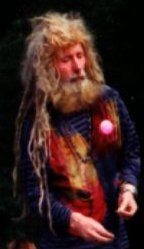 John Pendragon died on Easter Monday 1998. Many will remember him from Wandsworth Eco Village, London, Bristol, Wales, Stonehenge Free Festivals, etc.

---

Any writings, art etc by, about, or inspired by John please to:

John Pendragon Project
c/o Festival Eye
BCM 2002
London WC1N 3XX 

or email tribalvoices@dicenews.com

---


Subject : JOHN PENDRAGON FAMILY
Date : Wed, 8 Aug 2001 15:42:49 +0200 HELLO,
I'M GILDAS a son of JOHN, i have never saw him.I was born in april 26 .1980 and i'm living in FRANCE since 1982.
I think JOHN died but if you can give to my information about him,i will very pleased.
GILDAS. MICHEL_M83@HOTMAIL.COM
---
I met John many times, at Henge and other festivals and on Hawkwind tours.
He was a face, a good spirit and a good father.
He loved to talk and find out where people were at, sharing his magic and showing that he cared about this messed up world.
Although he has gone, many of us will try to put out the same vibe as he did.
Peace and fun
Joe the hat.
(joethehat@hotmail.com)
Date: 17 June 2001 13:58
Sent from Mail Form posted at:
http://www.geocities.com/tribalvoices/john.htm
---
To: [tribalvoices@dicenews.com]
Subject: johnform
Date: 25 May 2001 09:09

Hi There,
Just like to say that i first met John Pendragon back in 1988 in Glastonbury and he was always a source of inspiration to me. He encouraged my writing at the time and was glad to show me his own 'Tribal Messenger' magazine. I met him on several occasions over the years and always came away inspired. At the Eco-Village land squat in Wandsorth they had an open day and John sang some wonderful songs - one about remembering the great souls of our time like John Lennon and Martin Luther King.
Well John was one of those characters. A beacon for Truth, Justice and the freedom to choose the way you want to live.
I last saw him at The One World Festival in Frome in September 1997 and we had some deep talks.
There was a sense of occasion that afternoon. I couldent put my finger on it but its clear now that he was on his way to the stars.
I still miss you John until we meet again but here on spaceship earth your work goes on and in this you are alive. Bom Shanka John...See you next time
John De Atma
---------------------------------------------------
---
From: [hello.me@cwctv.net]
To: [tribalvoices@dicenews.com]
Subject: paul john organ 19-07-65 eldest son of john
Date: 24 April 2001 21:36

some new a man so good of times so far and few. a sacrifice for all makind and worldsworth values to, does one take a choice or is it destined for not what we do. my sacrifice was more than life my children i never saw them grew. ask john for me...
---
20june2000
Hi all

While checking out details of this year's Henge arrangements, I chanced upon this page. It was with great sadness that I learnt of John's journey onwards. I have been out of the loop for some many years and thus had not learnt of this news. (Where are the news singers when you need them !!)

I knew John throughout the period 73-84, meeting him at countless fayres, festivals and rallys. Always a proactive person, he freely gave of his energies in support of a better more caring, sharing world.

I am sure countless other people feel as I do that his parting is a loss but we can keep his spirit alive by continuing to support his ideals.

Peace, light and love

Raefn
---

Date: 26 May 2000 19:05

Hello Maria, I met John at Wandsworth where I lived for 4 months & got to know him faily well, he was a born campaigner straight from the heart. While at Wandsworth he seemed mainly concerned with his children, but also with everything else that was hapening there & elswhere, he was always kindhearted & would always have an ear ready. I think i can safely say he is missed by everyone who knew him & i'm sure he has already returned to help anywhere he's needed. Hopefully one day we'll meet, as i whould also like to meet his children.
Love Red
---------------------------------------------------------------------------
---

 From: Maria Organ marias@telusplanet.net 
 To: "tribalvoices@dicenews.com"
 Save Addresses 
 Subject: John Pendragon
 Date: Thu, 07 Oct 1999 23:06:52 -0600
I sent a message about my late father John Pendragon 
to you back in July, I received one brief reply 
from George Dice, but since then nobody
has replied to me at all with any more information 
about my dad. I would dearly like for you to reply 
to the messages that I sent.
Best Wishes
Maria Louise Organ
Calgary, Alberta, Canada

---

 From: W & D Schwarz [Waldot@compuserve.com] 
 Reply-To: diggers350@egroups.com
 To: "INTERNET:diggers350@egroups.com" 
Subject: [diggers350] John Pendragon Family
 Date: Sun, 10 Oct 1999 17:13:42 -0400

Hi
I am Dot Schwarz. I met JPendragon twice at the Pure genius site in Wandworth London in 1996.

If you want to read what we wrote about him it is in our book chapter called Magic and squalor, Living Lightly: Travels in Post Consumer Society Walter and Dorothy Schwarz published Jon carpenter 1998 It is available in Canada and US.

If you want more we can be in email touch and i can find the notes we took but it would take quite some time.

We met John twice on the site. He helped us a lot. EG when my money was pinched one night he did a wip round and collected pennies and ten pee pieces and gave them to me. that incident is in the book. Hear from you again I hope

Cheers Dot
---
NEWS OF JON PENDRAGON'S MEMORIAL UPDATE APRIL 1999
Hiya, this is Crystal Jane here, with info about Jon Pendragon, who died last year on 13th April ('98). His ashes were scattered on Glastonbury Tor, Hill of Tara and Stonehenge on Solstice (Summer) 1998. The latest is that a lock of Jon's hair (dread) was burned in ritual puja on the Burning Ghats at Varanasi (Benares), India, in January 1999. In memoriam Jon was commemorated by a millennium oak (Quercus Robus) planted at a private site in the Chalice Well's tree nursery on top of Chalice Hill on Good Friday i.e. 2nd April 1999 and a Rowan tree (Mountain Ash) is going to be planted at the Chalice Well Gardens in the "Meadow" area of the Chalice Well, on Easter Monday, 5th April 1999, at 5pm. People who wish to come can arrive from 4pm. The Gardens close at 6pm.

Jon was a very special person who meant a lot to many people; his efforts on behalf of the Stonehenge campaign, Tribal Messenger, Ecological and political issues struck a chord in the hearts of many devoting their lives to leaving the earth a better place than they found it. Jon was born at Easter, 18th April 1939, and died last year at Easter, 13th April 1998, aged 59. His children, family and friends still love and miss him. The Millennium Oak, planted as a caretaker tree in the Chalice Well's tree nursery on Chalice Hill (in years to come it will be visible from Glastonbury Tor) represents the focused, private side of Jon's personality, and the Rowan, a magical tree, has been traditionally accepted as a protector against evil influences reflecting his work among thousands of people over the years in the public domain. He carried a torch for his/our time, and his contributions to raising awareness and inspiring people should not go unremarked.

All the best, blessed be all who may browse here. Crystal Jane.
---


From: Maria Organ marias@telusplanet.net 
 To: george@dicenews.com 
 Subject: Re: John Pendragon Family
 Date: Fri, 15 Oct 1999 23:51:31 -0600



Thank you for the messages so far. 
My brother Paul and I went to Wandsworth to
see dad, and we enjoyed to spend the afternoon 
talking to him after we had not
seen him for quite a long time. 
Our fathers love of music has definately passed
on to us, we have inherited his celtic heritage.  
One day I hope to visit Ireland 
which is where his family is from. 
I do not know how many other
brothers and sisters we now have, 
the only other children I ever met were a son
called Crinan, and another son called Gildas, 
both of whom I have no idea where
they are. John also talked to us about his 
youngest children when we met with
him, it would be nice to know them as well.
L
Maria

---
---
Any writings, art etc by, about, or inspired by John please to:
John Pendragon Project
c/o Festival Eye
BCM 2002
London WC1N 3XX 
or email george@dicenews.com
unfortunately John had put most of his papers in storage but not paid the rental so it was all destroyed (this is a rumour, probably true)

webpage http://www.hrc.wmin.ac.uk/guest/tribe/index.html has another picture of John


return to Tribal Voices
end of http://www.geocities.com/tribalvoices/john.htm
Thanks for these webpages.